REFLECTING LIGHT WORKSHOP
---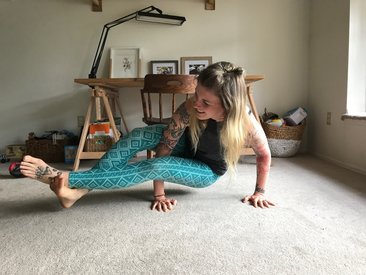 I'm Jessie! I'm a wife, a mom to two crazy little humans and I love to create things! Between my corporate job and my full time mom gig, I carve out as much time as I can to paint or make malas. Sometimes that looks like listening to Outkast while stringing beads, pausing to apply sunscreen to toddler noses (or break up a squabble!), or painting on the back porch while my four year old creates his own masterpieces (which means lots of breaks to refill his paints or clean up spills!). If nothing else I hope my little shop brings you a smile, and at best I hope you find something you love! Thanks for your support!
​
---
MALA BEADS
---
This Mala bead necklace is made with 6mm wooden beads, amethyst and amozonite accents and a handmade black tassel. The amethyst helps you to stay grounded and can aid in healing (both emotional and physical) while the amozonite boosts intuition and truth. The perfect combo. 👌🏻Approximately 20".

Dark chocolatey 6mm wooden beads with lighter brown 6mm wooden beads and fire agate accents. Approximately 15.5".
Fire agate's properties are grounding and inspiring. It's an ideal tool for spiritual awakening.
Hand made by me! Mala bead necklace with 6mm wooden beads, amozonite accents and natural stone pendant. $30 shipped. Approximately 16.5".
Amozonite's properties are of truth, honor, communication, integrity, hope, and trust. It's said to enhance intuition, creativity, intellect and psychic abilities.🔮

One of my personal favorites!

Hand made mala beads. 6mm wooden beads and amazonite accents. Skull charm and hand made tassel. Amozonite's properties are of truth, honor, communication, integrity, hope, and trust. It's said to enhance intuition, creativity, intellect and psychic abilities. Approximately 14" (28" total)
---
PAINTINGS
---
| | |
| --- | --- |
| I Come from the Land Down Under! | Sleepy Flamingo |
| | |
| --- | --- |
| 9"x12" original watercolor. This little koala charmed my pants off while I was painting him! I feel like I can imagine the way he'd speak, maybe like an Australian version of paddington. So sweet for a nursery or kid's room! | This 9"x12" original watercolor of a peacefully snoozing flamingo wearing a sweet floral crown would be perfect in a nursery or child's room! Can easily be cut down to 8"x10" or fit in an 8"x10" matted frame. |
---
| | |
| --- | --- |
| We're all fine here....how are you? | Sleepy Cockatiel |
| | |
| --- | --- |
| Original 9"x12" watercolor inspired by my love for all things Star Wars. I always love to find unique Star Wars things that also go with my aesthetic! | Sweet sleepy cockatiel. 9"x12" original watercolor. Would be so cute in a nursery or kid's room! |
---
| | |
| --- | --- |
| Floral Moon | The Devil of Hell's Kitchen |
| | |
| --- | --- |
| Original 9"x12" watercolor, moon with florals. | 9"x12" original watercolor. For those who know, you know. |
---
| | |
| --- | --- |
| Moon with Ferns | Moonlight and Botanicals |
| | |
| --- | --- |
| ​9"x12" original watercolor. Ferns dancing around the moon. | 9" x 12" Original Watercolor. There's just something magical about the moon, so I find myself painting it often! I love to paint things that I find beautiful and that I'd love to see hanging in my own home. I hope you love it, too! |
---