---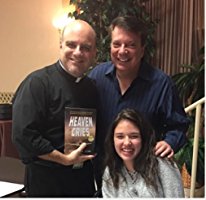 Meet Author
Stephan A. Silva
Stephan Silva is a pharmacist, physician, and foot surgeon who grew up in Westchester County, New York. He earned an undergraduate degree from St. John's University in pharmacy and a doctorate from New York College of Podiatric Medicine. He is board certified in podiatric medicine and surgery, as well as advanced wound care.
In addition to being a writer, Stephan owns and operates a wound care clinic in Boca Raton, Florida. He has been married to his wife Debra, for thirty years. They have three children and a schnauzer. When not writing or practicing the healing arts, he enjoys martial arts like aikido as well as tennis and racquetball. His true passion is international travel and spending time with his cousins in Piacenza, Italy.
Stephan's debut novel, Heaven Cries, is a fictionalized account of his great uncle Artemio Silva and his exploits in the Italian Royal Air Force during World war II and subsequent internment under Nazi occupation. It is a story of redemption and the road back from perdition- how average people tried to survive in this crucible of war.
In August of 2016 the Florida Authors and Publishers Association awarded Heaven Cries a Gold Medal - their highest honor - for best Historical Fiction of the year.
---
---
HEAVEN CRIES
---
---
Genre: Action Adventure / Crime/ Romance​
Winner of the Florida Authors & Publishers Association Gold Medal for Historical Fiction.

When Artemio Battaglia joins the Regia Aeronautica to become a fighter pilot at the beginning of World War II, he's inspired by the romanticized patriotism of the Fascists. His idealism is shattered when he witnesses atrocities committed against indigenous populations in North Africa, and the officials he informs do nothing to stop the murderers. Their response is to transfer him to the most dangerous front in the war. A disillusioned Artemio returns to Piacenza to find his city occupied by ruthless German soldiers. He enlists in the war again, this time as a member of the Red Brigades. With a renewed sense of purpose, Artemio repeatedly places himself in peril, sabotaging German supply lines and giving aid to the Allies. But when his comrades capture a downed Italian pilot and schedule a hasty execution, Artemio recoils at the senseless violence. Once again, he is called to act in accordance with his conscience and embarks on a bold plan to set things right.

---