---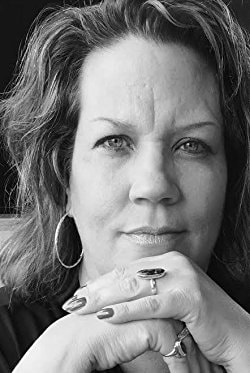 Meet Author
​Kiersten Hall

Kiersten Hall has been writing stories all her life… in her head. She is finally taking the time to put those stories down on paper for others to read. Kiersten is planning on publishing one book per year, or at least, that's the goal.

Most days, she can be found at 'Command Central' (her beloved desk.) It's 7' x 7' with lots of storage, yet there's only 1 square foot of space (on a good day) available for her to utilize due to all the stacks of 'things to do' when she has the time; which could literally be years from now. Command Central has been an integral part of Kiersten's 'Master Plan' for taking over the world, which is currently going on 20 years. It's seen a lot of work get done, and a lot of stories written. Kiersten is also a firm believer in the fact that 'duct tape fixes everything,' since that is what's helping to hold her desk together, at the moment.

When Kiersten is not sitting at Command Central, busy at work, she can sometimes be found jockeying for rations of food in the kitchen with her two teenage sons who live with her in small-town America. She does admit to having a plethora of hiding spaces for edible contraband (candy and other snacks which shouldn't be consumed with a sedentary lifestyle), in the 49 square feet of her beloved desk. However, she also has her suspicions that her kids know where those hiding spots are, and patiently wait until they are sure Kiersten has completely forgotten about the hidden treats, and claim them for their own.

Lastly, to pretend she has an active outdoors life, Kiersten plants a garden each spring for approximately two hours during the beginning of the season until she remembers there's something she needs to get done and goes back inside to work. She spends the rest of the growing season observing the natural weed overgrowth battling with the products from the 'money' (flowers ain't cheap) she planted in the ground, earlier, either through her kitchen window when she's refilling her coffee IV tree, or on her way to the car to get to another appointment/event.
---
---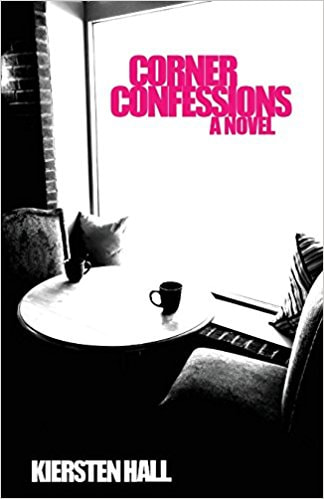 CORNER CONFESSIONS
A NOVEL
​Genre: Fiction
Everyone has that one secret… that one skeleton in their closet… which will never see the light of day. No psychiatrist, priest, spouse, or best friend will ever hear this secret, yet the urge to share this information can be found in most people's natural psyche… People want to share their experience with others… They want to tell someone their deep, dark secret. Although this secret rides on the subconscious - scratching at the surface to be revealed, it's most often too embarrassing, or horrifying, or scandalous...

What better way to get that secret off the mind, and out of the closet than to tell someone who is a complete stranger? Someone who will not judge what has been said, and what has been done? This method is safe, anonymous, and there is no accountability or judgment - and if there is, the keeper of the secret can simply walk away.

Meet fourteen individuals who have decided to clean at least one skeleton out of their closet by confiding in a complete stranger whom they meet at a local coffee shop. Unassuming and safe with no judgments passed, learn about these secrets first hand, as if you were a fly on the wall listening in during their confession.

Everyone has a secret. What's yours?

---
---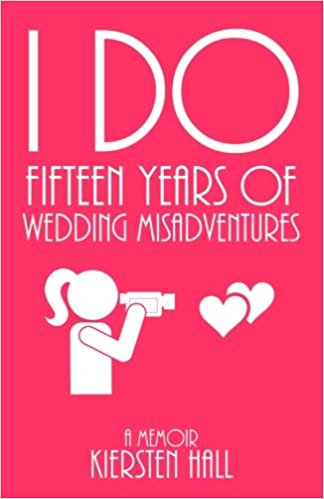 I DO
Genre: Memoir
"This book is a MUST READ for anyone who is planning on getting married or has already taken the trip down the aisle!"

15 years of memories from 1,400+ weddings as a professional videographer. There are plenty of entertaining stories to share with the readers!

Chapter titles include:

* Where's Grandma?
* Can I Get Your Autograph?
* Who Brought the Gun?
* Calisthenics in Formal Wear

"This book is a page-turner! Once you pick it up, you won't be able to put it down until you're done!"
Complete Bridal Planning Checklist Included

"After reading this book, I'm thrilled that my wedding was so 'average'."

"Absolutely hilarious! This is the strategic, guerrilla handbook to planning a successful wedding."

Amazon Customer Review:
'I would have never thought that a wedding videographer would deal with so many different situations! While reading this book I encountered some interesting information, some winces and cringes, some genuine laughs out loud - but I can honestly say that all of it was entertaining! In addition, Kiersten's casual, witty, and amusing writing style made me feel like I was sitting in her living room as she shared these scenarios and anecdotes with a group of friends - Thanks for sharing!'

Amazon Customer Review:
'It's just an awesome page-turner. If you're getting married, you definitely need to buy it. If you're not getting married/already have gotten married and you're looking for some good laughs, it's totally worth it. Kiersten's style of writing is also just really refreshing and makes funny stories even funnier - crisp, satirical prose elegantly put together. She takes years of great stories and boils them down to the best ones for the reader to enjoy.'
---
---