---
MEET
CECELIA J BONWICK


​ Leading an exciting life, Cecelia grew up in outback Australia. Living the life of a Gypsy as her foster parents traveled from station to station putting down bores. Before becoming physically disabled, Cecelia rode horses, played competitive sports including Hockey, netball and tennis. Cecelia was one of the last drovers for Stanbroke Pastoral company, spending months in the saddle in the hot Australian sun. Having at one time part ownership of a contract mustering company, Cecelia is no stranger to the rugged Australian lifestyle. Giving her a unique perspective from which to craft the most enthralling novels.
Cecelia worked as a teachers aide teaching children in main stream schooling and special needs. Raising 4 children in the process , she even home-schooled her youngest two children for their entire schooling.
She has enjoyed art and writing for many years but has had little chance to pursue writing before now. While "Her Father's Shadow" is Cecelia's debut in mystery / suspense. Her first novel "Rose Gun Mysteries" a romantic/mystery set in the late 1800's will also be published later in 2017.
She currently lives in Queensland with her two youngest children.

---
---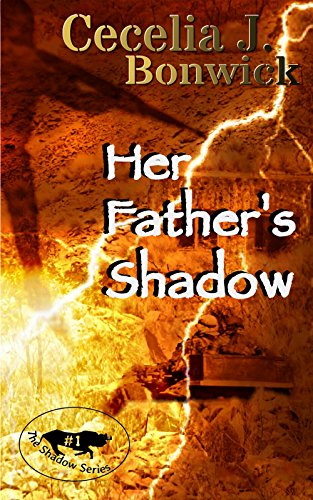 HER FATHER'S SHADOW
Genre: Mystery/Suspense (Clean)

The first 'chapter' in a thrilling new mystery series...
"A country girl's world is turned upside down when tragedy strikes her family again. When Monica's father's death is ruled a murder, she is the prime suspect and the handsome lead detective is set to prove his case. Her father's last message, a dire warning, sends her on a wild goose chase across the globe, with unknown enemies dogging her every move. Like an intricate game of chess, her skills will be put to the test. Her life and the lives of those close to her will be threatened time and again by her family's shadowy secrets. She could loose everything she holds dear. Will Monica be able to convince the people she loves that she is innocent? Will she be strong enough to live to tell the tale? Or will it all be too much for this quiet naive girl? Join Monica as she faces her family's demons, discovering a legacy of life and death.

---
---