---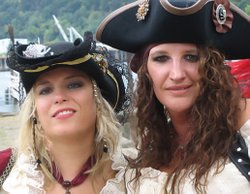 Meet Author
​Carysa Locke
Carysa Locke is the pseudonym for writing team Carysa Locke and MaLea Holt, two best friends who have been creating imaginary worlds together for more than twenty years. Carysa is a high school English teacher, and MaLea helps support families with special needs children. You might say, they work as super heroes in their day jobs!
Their obsession with pirates and adventure goes back many years, when they started another hobby together - costuming. They regularly attend Ren-faires and Pirate Festivals. They currently reside in the Pacific Northwest with their families, where they still routinely roleplay and costume together, when they aren't too busy working on the next novel.
---
---
---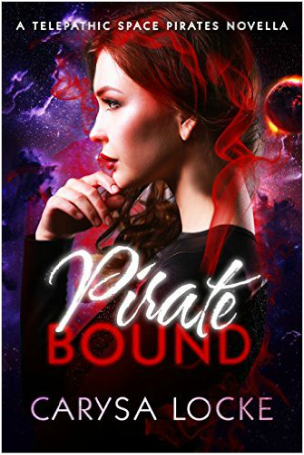 Pirate Bound
Genre: Romance/Science Fiction/Fantasy
A desperate gamble…
Sanah would do anything to protect her little sister, even if it means taking refuge with ruthless pirates. But the psychically Talented pirates terrorizing Commonwealth space are not quite the monsters she has been led to believe. When Sanah's empathic gift shows her the truth behind the stories, she is no longer certain who the villains are in her world.
A race on the verge of extinction…
Dem's only goal is to protect his people, especially since a deadly bio-weapon decimated their population. Only a handful of women survived, and every day is a fight to rebuild. With Sanah's empathy and her sister's rare ability to heal, they could be the salvation Dem and his people have been looking for.
A dangerous secret that could destroy everything…
But how can Sanah trust Dem with her life? Especially when he'd kill her if he knew the truth.
Pirate Bound is a short prequel novel to the Telepathic Space Pirates series. It is a standalone story within the series.

---
---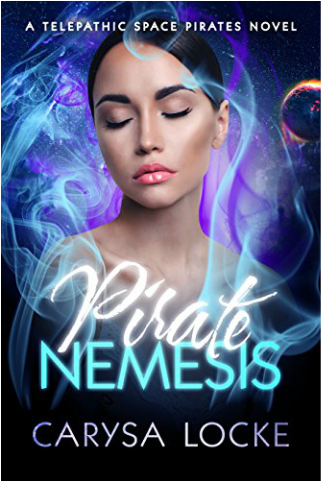 PIRATE NEMESIS
Genre: Romance/Science Fiction/Fantasy
Mercy Kincaid is a fugitive from her own family. Her dangerous telepathic gifts make her a target. So is anyone she gets close to. When her best friend is captured and tortured, Mercy's only hope is to reunite with the family that tried to murder her as a child. She trusts few among her blood relatives, but finds herself intrigued by an enigmatic and dangerous killer.
Reaper has spent a lifetime watching his people die. He's vowed to kill anyone who jeopardizes their survival. Mercy's gifts are the biggest threat they've faced in eleven years, since a biological weapon nearly annihilated the pirate colonies. But Reaper realizes her talents can either destroy them, or save them. He must decide if he's fallen victim to her power, or if he can truly trust the beautiful woman and her compelling abilities. If he makes the wrong choice, everyone dies.
Pirate Nemesis is the first book in an ongoing science fiction romance series. If you like compelling world-building, fantastic characters, and sizzling romance, then you'll love Carysa Locke's new twist on an old genre.

---
---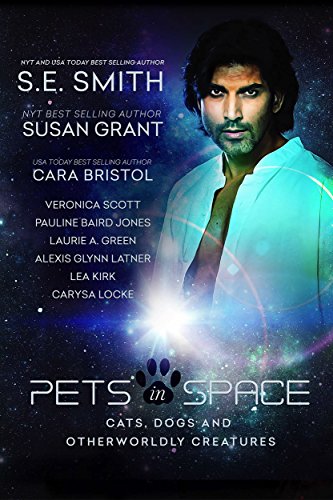 PETS IN SPACE
Cats, Dogs and Otherworldly Creatures
Anthology

Genre: Science Fiction/Fantasy

Even an alien needs a pet...

Join the adventure as nine pet loving sci-fi romance authors take you out of this world and pull you into their action-packed stories filled with suspense, laughter, and romance. The alien pets have an agenda that will capture the hearts of those they touch. Follow along as they work side by side to help stop a genetically-engineered creature from destroying the Earth to finding a lost dragon; life is never the same after their pets decide to get involved. Can the animals win the day or will the stars shine just a little less brightly?
New York Times, USA TODAY, Award Winning, and Best selling authors have eight original, never-released stories and one expanded story giving readers nine amazing adventures that will capture your imagination and help a worthy charity. Come join us as we take you on nine amazing adventures that will change the way you look at your pet!
10% of the first month's profits go to Hero-Dogs.org. Hero Dogs raises and trains service dogs and places them free of charge with US Veterans to improve quality of life and restore independence.
ESCAPE RUN By Carysa Locke
A hunter and her psychically gifted fox must save the world from a dangerous patient while fighting her attraction to the man that she works for.
Join the adventure as 9 of today's leading SFR authors combine their talents and deliver eight original & one expanded action-adventures in space that you won't forget.


---
---