---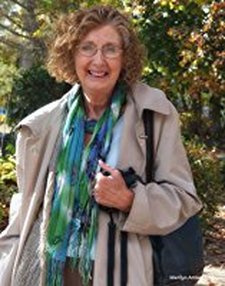 Meet Author
​Bette A. Stevens
Inspired by nature and human nature, Bette A. Stevens is an author, retired teacher, wife, mother of two and grandmother of five. Stevens lives in Central Maine with her husband on their 37-acre farmstead where she enjoys writing, reading, gardening, walking and reveling in the beauty of nature. She advocates for children and childhood literacy and for monarch butterflies, an endangered species. Stevens's children's activity book, THE TANGRAM ZOO and WORD PUZZLES TOO!, was first published in 1997 by Windswept House Publishing, Mt. Desert, ME; a second edition was self-published by the author in 2012. AMAZING MATILDA, Stevens's second children's book, self-published in 2012 won a 2013 Purple Dragonfly Book Award (Honorable Mention for Excellence in Children's Literature - Ages 6 and older category) and also placed #9 on The 2013 Gittle List for Self-published Children's Picture Books. Stevens has written articles for ECHOES, The Northern Maine Journal of Rural Culture based in Caribou, Maine. In 2013, the author published her first book for the YA/Adult audience: PURE TRASH: The story, a short story of a boy growing up in rural New England and prequel to DOG BONE SOUP, debut novel released January 2015.
---
---
AMAZING MATILDA
Genre: Children's Literature
Inspire the Kids with an Award-winning (Excellence in Children's Literature) Monarch Butterfly Tale.
In this age of instant gratification, there's an award-winning children's picture book out that teaches kids that patience and hard work really do pay off.

'AMAZING MATILDA: A Monarch's Tale' is a timely tale that follows MATILDA, a tiny monarch caterpillar, from the time she hatches from her egg on a giant milkweed leaf until she realizes her dream to fly. The story provides challenges and adventure at every turn.
Grandparents, parents and teachers will find that AMAZING MATILDA is a book that kids will want to read themselves and hear read to them again and again.
Get your FREE Authorgraph for your digital copy from author/illustrator Bette A. Stevens at www.4writersandreaders.com

---
---
THE TANGRAM ZOO & WORD PUZZLES TOO!
​Genre: Children's Activity Book (ages 5-12)
The Tangram Zoo and Word Puzzles Too! is a resource for multi-cultural and interdisciplinary studies in the classroom or at home. Integrates Math (measurement and geometry) and Language Arts (research and writing) for elementary and middle school students, while presenting a few historical facts about tangrams. Tangrams and word puzzles (rhyming riddles/poetry) encourage students to have fun while they're learning, and then to demonstrate what they've learned. Includes ideas for home/school projects. Tangram outlines, with rhyming riddles as clues, are even labeled for coloring for preschoolers. Hands-on fun for the whole classroom/family!
---
---
PURE TRASH:
​The Story
Genre: Historical Fiction
(Ages 10-Adult)

It's PURE TRASH, a Compelling Prequel to the novel DOG BONE SOUP. The year is 1955. Remember the Good Old Days? You know, the 1950s and '60s, when America was flying high. The All American Family lived a life filled with hopes and dreams and life's necessities too. Shawn Daniels isn't your typical American Boomer Boy. No, Shawn is a poor boy. He can't join Boy Scouts or sports teams. There's not even enough money for necessities. Besides, Shawn doesn't have time for that. But when chores are done, there's always fishing!
In this short story, Shawn and Willie Daniels are off on a Saturday adventure in search of trash to turn into treasure. It is going to be a great day. Shawn is sure of it. No school and no bullies to remind him that he's not one of the crowd. This is a story about bullies and what it's like to be bullied (and not just by kids). It may redefine your definition of bullying. If you were a child who was thought of as "different" in some way, you know what bullying is about: torment, persecution, intimidation, to name a few of its synonyms. For Shawn and Willie, their difference was based upon the social status of a dysfunctional family and the alcoholism and abject poverty in which they grew up.
---
---
DOG BONE SOUP
Genre: Historical/Literary Fiction (Ages 12 - Adult)
Whether or not You Grew Up in the 1950s and 60s, you'll find DOG BONE SOUP to be soup for the soul. In this coming-of-age novel, Shawn Daniels's father is the town drunk. Shawn and his brother Willie are in charge of handling everything that needs to be done around the ramshackle place they call home—lugging in water for cooking and cleaning, splitting and stacking firewood…But when chores are done, these resourceful kids strike out on boundless adventures that don't cost a dime. DOG BONE SOUP is the poignant tale of a dysfunctional family struggling to survive in America in the 50s and 60s, when others were living The American Dream.
---
---